Wow that year flew by! What a year it was though! I completed my first half marathon, which was an amazing achievement, and I ran a total of 9 races. Of those 9 races, 6 were in the last 3 months of the year! It's safe to say I got a little bling crazy. Here is my 2015 bling (and some matching nails!):
Top left to bottom right: Knott's Coaster Run 10K, Froyo 5K, Disneyland Half Marathon, Aloha Run 5K, Terrifying 10 5K, Monster Dash 10K, San Dimas Turkey Trot 10K, Dana Point Turkey Trot 5K, Santa Run 5K, and Holiday Series.
I completed a Holiday Series with Renegade Racing for which I received an extra medal. It was HUGE and brought my 2015 medal total to a nice even 10. Pleased as punch with my first year of running!
This was also my first year tracking my steps, which I loved. I am a huge data fiend and love all the technology available these days to track a plethora of data types. My total for the year was 1,481 miles, starting March 10, 2015. As I blogged about, I started with a Jawbone, and shortly thereafter I bought a Fitbit. Here are my Fitbit stats for the year (purchased July 9, 2015):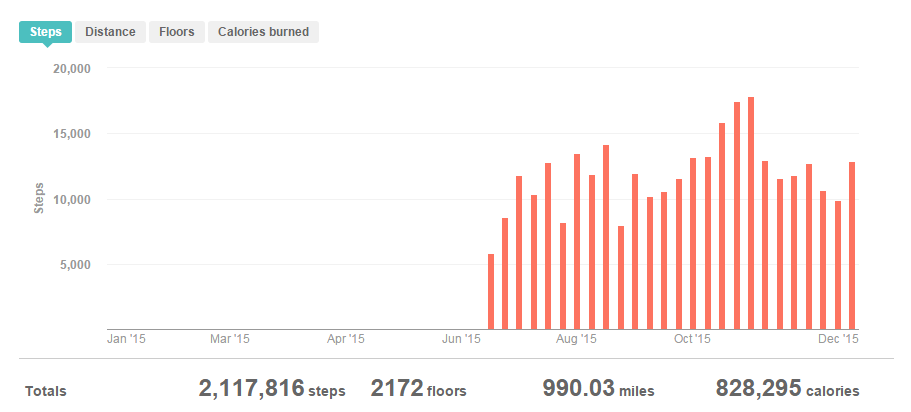 Once again, pleased as punch! Though the OCD in me hates seeing that I was a mere 10 miles away from a nice even 1,000 miles on my Fitbit.
Using RunKeeper, I tracked a total distance of 712.8 for the year for all of my cardio activity. The breakdown was 319.7 miles running, 375.7 miles walking, and 17.4 on the elliptical or stationary bike. Again these are tracked exercise, not just my steps each day.
Let's talk weight loss. My goal was to be down a grand total of 60 lbs by the end of the year, and I was 2 lbs shy. I was 0.8 lbs away from the goal, and then we went on vacation to Walt Disney World. After that, it was all downhill for the rest of the year. I am back up about 8 lbs so my first weight loss goal of 2016 is to get back on track and be down a total of 60 lbs by the end of this month.
Still doing great tracking my calories, though I did break my insanely long MyFitnessPal streak on vacation and was super bummed! I've been back at for 46 days again though. I have been bored lately with food options so I started a new schedule this week to try to switch things up a bit. My problem area lately has been lunch. I plan it and bring it, then decide not to eat it. Plus all the snacks that are around this office are a huge temptation for me. I already had two cookies this morning (oops). I just need to be more diligent and find some self-control. If anyone has any to spare, please send it my way!
My overall weight loss goal for the year is to lose the remaining 20 lbs and be down a grand total of 80 lbs. Once I hit that, I will head back to my doctor to see if I could lose more, or simply maintain. Ideally I would love to have this done by the Tinker Bell Half Marathon in May.
I decided last year that I will be doing a Coast to Coast Challenge with RunDisney in 2016. This is where you run one half in California and one in Florida during the same calendar year.  I will be doing the Glass Slipper Challenge (Enchanted 10K one day, Princess Half the following day) next month in Florida. I am feeling a little crazy and also walking the Princess 5K while I am there! Then I will be doing the Pixie Dust Challenge (Tinker Bell 10K one day, Tinker Bell Half the following day) here in California for my second race. I am very excited, yet dreading it at the same time. Ahh!
Currently I have about 5 other races I am considering as well. We shall see if others get added as the year progresses!
My goals for 2016 are as follows:
Lose 28 lbs to reach 80 lbs lost
Run 2 half marathons / challenges
300 miles walking
500 miles running
1,700 miles in steps
4,000,000 steps
Develop and stick with a strength routine
Find some self-control
The mileage and step goals of course are just rough estimates based on my activity this year. I may edit them as the year goes on.
That's all for now (yes this short novel has ended) and I will do my best to update more often this year. Though, I don't make any promises. Here's to another great year towards a healthier, lighter Lauren!